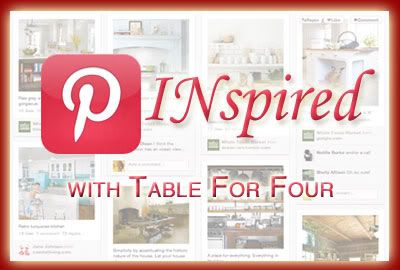 Today I am linking up with a great friend
Nicole
- She has been sharing all her pinterest projects and I wanted to join the party!
As with just about every avenue of Social Media I was reluctantto join at first but quickly became slightly (ok TOTALLY) obsessed with pinterest. I could totally make pinterst projects a full time job!
I wont bore you with the details and if you love the site as much as I do not further explanation is needed.
I'll limit my post today to our home projects and I admit i use the term "our" quite liberally as truthfully I find the picture of what I want and turn to my husband and say "You can do this right?" He in turn has never let me down!
Bedroom
I saw
this
and HAD to do it! I'd been pricing out bed sets and they are SO expensive so this turned out to be a budget friendly alternative! I give the HUB's all the credit for this! It came out even better than I imagined. I am still combing thru more ideas for what to hang above the head board . . . hummm decisions decisions!
We then used the left over stain to turn a blanket rack into a matching piece.
I then needed a jewelry organization piece and after looking thru tons of pictures decided I would not go buy one more thing and deciding instead to mesh all the ideas i'd seen together and use left over scraps from our head board. All I did was screw in some cup hooks to hang the necklaces from and strung some lace into the wood frame for the
earrings
All while the Hubs was creating our bedroom master pieces - I got to work on my own side project a kitchen chalk board I'd seen
here
. I LOVE LOVE LOVE this. Its great to leave notes on, post the weekly menu or as seen here set an inspirational reminder to look at every day.
What have YOU been pinning?
Interested in more of my pins? Follow me!
http://pinterest.com/amieleaf/